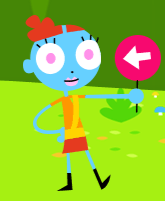 Abby is the teacher that appears during the Back to School Event every single year. She appears to be friends with K. Her name is only in the game files. She used to be popular, then her popularity died down, but it's starting to make a comeback.
She first appeared in the blog post, School's in Session!, but shortly after, appeared in the game. She then unexpectedly appeared a second time in the blog post, Happy 2016!, but remained unnoticed at the time.
Appearance:
Abby has red hair tied up in a bun, and wears an orange blouse with a red skirt, as well as black boots. She has light blue skin, and pink eyes with eyelashes. Sometimes she wears a yellow sash as well. She wears lipstick, but not all the time.
Trivia:
Her favorite classes/subjects are reading and math, but she also really likes science and history.
One of her students seems to have drawn a picture of K.
It is inferred that she drives the bus herself, as she stands next to the bus, and the banner on the PBS KIDS website, as well as the app, from September 2017 also show her driving a school bus.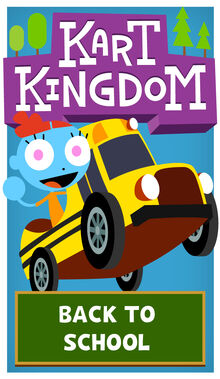 Her bus only has one light at the top.
Sometimes she doesn't wear the yellow sash around her blouse like in the game.

In the site's banner from September 2017 during the event, there is no pillbug at the top of the Kart Kingdom logo.
One of the rare phrases she says is "Drive safely!" She also says "Check out the new classroom!" even though nothing has changed.
She briefly appeared in the beta trailer.