On May 15, 2021, a new update of the PBS KIDS Games app included a revived version of the racing minigame from Kart Kingdom, appropriately titled Kart Kingdom Racing. Although it was virtually the same game, it was formatted differently and included some scrapped ideas from the original MMO, such as Dot, Dee, and Del being racing characters. The game was available for no more than two days before it was removed. It has not returned since.
Overview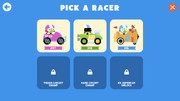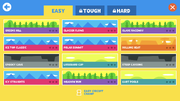 First, the player chooses which racer to play as. Since this is a standalone game, the player does not have their own avatar to customize. At first, there are only three playable characters: Dot, Dee, and Del. There are two locked characters which can be unlocked by completing racetracks. The third locked character is Gus, who can be unlocked using the code, "GUS".
After choosing the playable character, the player chooses what racetrack they want to race in. There are three difficulty modes, but Tough and Hard modes are only unlocked after completing Easy mode.
Racetracks
Easy Mode
Track Name
Racers
Greens Hill
Chaz

Armstrong

Flash

Glacier Flows
Armstrong

Chaz

Ram

Glade Raceway
Jane

Ace

Flash

Ice Top Classic
Princess Wonderful

Four

Daisy

Polar Summit
Jane

Princess Wonderful

Lucy

Rolling Heat
Titan

Armstrong

Lucky

Spooky Cave
Jane

Armstrong

Lucky

Lifeguard Cup
Chaz

Ace

Diesel

Steep Caverns
Armstrong

Violet

Ram

Icy Straights
Four

Armstrong

Fang

Meadow Run
Four

Ace

Flash

Kart Pools
Violet

Ace

Pierre
Trivia
After Gus is unlocked, there is a pop-up message that says, "New racer unlocked! You must be a superfan!"
On May 18, 2021, the game was temporarily removed from the PBS KIDS Games app due to technical difficulties.

The technical difficulties in question may include the new features exclusive to this incarnation of racing; upon release, players who completed Easy Mode could not progress to the following difficulty modes.