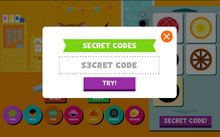 Secret Codes are codes that you put in the Parts Trailer to unlock
Karts
,
Wheels
,
Hats
,
Stickers
, and things for
Clanky Caverns
. They can mostly be found on the
blog
or at
Kart Kingdom
Events. Secret codes never expire and can only be used once on one account. Sometimes users find secret codes, like how
SirGawain8
found
PBSVAN
, Inanis discovered
WTJXJEEP,
Bradstormer
found
NETFARM
Sesamegirl517
found
KETHORSE
,
Yumms567
found
WPBSSHIP
, and
Sussettey1
found
SIXTYSEVEN.
 Some codes are randomly given out like
PBSAUSTIN
and
BIGBLUE.
There are many unknown secret codes.
List of Secret Codes
Code
Items
Picture
Source
LAKESAND
Sandcastle Kart

Lakeshore PBS
GPBPEACH
Peach Kart

Georgia Public Broadcasting
VALGRAPE
Grape Kart

ValleyPBS
LPBGATOR
Alligator Kart

Louisiana Public Broadcasting
BIGBLUE
Blue Whale Kart

None
IDEACANOE
Canoe Kart

PBS Ideastream
KNPBSIL
Silver Mine Kart and Golden Wheels

KNPB
KSPSAPPLE
Apple Kart

KSPS
BASINLONG
Longhorn Kart

Basin PBS
DREAMLIMO
Limo Kart and Limo Wheels

None
PBSVAN
PBS Van

None
WSKGCARO
Fancy Carousel Kart

WSKG Public Broadcasting
SUBKART
Wild Kratts Sub Kart

None
ECOCLUB
Eco Club Badge

None
WHUTPANDA
Panda Kart and Cherry Blossom Sticker

WHUT/Howard University Television
SOCALOR
Orange Krate and Hollywood Sticker

KOCE/PBS SoCal
WXXIFLOW
Flower Kart

None
ILIKESHARK
sharksticker 2

None
TEAMSHARK
teamshark

None
TEAMSLOTH
teamsloth

None
TEAMDOG
teamdog

None
TEAMCAT
teamcat

None
TORTUGA
Wild Kratts Tortuga Kart

None
DREAMPUPPY
Dream Puppy Kart and Biscuit Wheels

None
SQUID
Squid Hat

None
DRAGONFISH
Dragonfish Sticker

None
BARRELHEADFISHKART
Wild Kratts Barrel Head Fish Kart

None
ANGLERFISH
Wild Kratts Angler Fish Hat

None
OLYMPIA
Panda Mask

None
DINOMASK
Dino Mask

None
KARTMASK
Kart Mask

None
BUNNYMASK
Mustache Bunny Mask

None
HATRACE16
Cat Hat Election winner

None
WTVIBBQ
Lexington BBQ Kart and BBQ Sticker

WTVI
DREAMDRAGON
Dream Dragon Kart and Dragon Wheels

None
SLOTH
Slothsticker 2

None
NIGHTMARE
Nightmare Kart and Nightmare Wheels

None
DOGFORHAT
dogsticker 2

None
PICKCAT
cat sticker 2

None
SNACKTIME
Cookie Kart and Milk Kart

None
KERNELS
Hippo Kart

None
DWNABBEY
Downton Boy Hat, Downton Girl Hat, Downton Kart, and Downton Wheels

None
APPLAUNCH
iKart Kart

None
WTJXJEEP
Madras Kart

WTJX
KVIEGOLD
Gold Rush Kart

KVIE
WHYYSTEAK
Cheesesteak Kart and Liberty Bell Sticker

WHYY
DINGDING
Neighborhood Kart

None
ILOVEKK
Flag Sticker

None
GROUCHO
Groucho Glasses 2

None
TABLET
Fire Buggy Kart and Robo Buggy Kart

None
PBSAUSTIN
Austin Taco Kart and Bat Sticker

None
WTIUCORN
Corny Kart

WTIU
RIDESAFE
Sporty Helmet, Sporty Ponytail Helmet, and Diving Helmet

None
PAULBUNYAN
Green Lumberjack Hat, Red Plaid Kart, and Blue Ox Kart

None
NETFARM
Tractor Kart and Tractor Wheels

NET
KETHORSE
Thoroughbred Kart

KET
WPBSSHIP
Freighter Kart

WPBS
UNCSPEED
Speedway Kart and Speedway Wheels

UNC-TV
WGBYASP
Asparagus Kart

WGBY
WSIUCOAL
Coal Mine Kart and Mining Helmet

WSIU
ECLIPSE
Solar Eclipse Glasses

None
SIXTYSEVEN
Sixtyseven Kart

None
YAYHORSES
Brown Spotted Horse Kart, Light Gray Horse Kart, Blue Horseshoe Sticker, and Horns Sticker

None
GIDDYUP
Black Cowboy Hat, Black Cowboy Hat with Purple Hair, Brown Cowboy Hat, Brown Cowboy Hat with Black Hair, White Cowboy Hat, and White Cowboy Hat with Blue Hair

None
WANTEDHATS
Sour Sue Beehive Hair, The Gent's Hat and Hair, The Kid's Hat and Hair, Squawk's Hat, and Goldie's Hat

None
MOREHORSES
Black Horse Kart 2, Gold Yellow Star Sticker, and White Horse Kart

None
MEDUSAMASK
Medusa Mask

None
PINEAPPLEVAMPIRE
Pineapple Vampire Mask

None
ICECREAMMASK
Ice Cream Mask

None
ZOMBIES
Zombie Kart and Zombie Wheels

None
WEBBY
Webby Kart

None
RUFFFREEZE
Snow Sucker-upper Freeze Kart and Snow Sucker-upper Freeze Wheels

None
RUFFWATERPROOF
Stay Dry Waterproof Kart and Stay Dry Waterproof Wheels

None
RUFFSTABLE
Ruff Stable Trapezoid Kart

None
RUFFFRICTION
Friction Gravel Shooter Kart and Friction Gravel Shooter Wheels

None
TPTLOON
Loon Kart and Loon Wheels

TPT/Twin Cities PBS
IPTVCOW
Butter Cow Kart and Butter Cow Wheels

Iowa Public Television
TOPSECRETCODETOPSECRETCODE
Odd Squad Suit Kart

None
ODDSQUAD
Odd Squad Badge Sticker

None
SECRETCODE
Odd Squad Wheels

None
1122XPLQ1122XPLQ
Odd Todd Suit Kart

None
24681357

None
OXOXOXOXOXOXOXOXO
Odd Squad Gadget Kart

None
BEEMINE                                          
Pink Beehive Kart

None
BANANAS
Pink Banana Kart

None

LUVCAKE 

Pink Cake Kart

None

ROCKON

Pink Rockabilly Kart

None
2PEAS
Green Peas Kart

None
BERRY
Strawberry Kart

None
HEARTGLASSES
Heart Glasses

None
SAFARI
Safari Hat 1 and Safari Hat 2

None
STARTERKIT
KRT Wheels, KRT Sticker, Starter Kit Helmet 1, and Starter Kit Helmet 2

None
HOTDOG
Hot Dog Kart

None
CHIPDIP
Salsa, Guac and Cheese Kart and Tortilla Chips Kart

None
SALTPEPPER
White Salt Kart and Black Pepper Kart

None
PUZZLE
Red BFF Puzzle Piece Kart and Blue BFF Puzzle Piece Kart

None
WUSFSAIL
Tampa Sailboat Kart

WUSF
WIPBCARD
Cardinal Kart and Cardinal Wheels

WIPB/Indiana Public Broadcasting
WNEDWINGS
Buffalo Wings Kart and Buffalo Wheels

WNED
WVPBRAFT
River Raft Kart and Quilt Wheels

West Virginia Public Broadcasting
KBTCFERRY
Ferry Kart and Apple Sticker

KBTC
WHROOYSTER
Oyster Kart and Helm Wheels

WHRO
PRAIRIEBISON
Bison Kart, Light Wooden Wheels, and Teddy Roosevelt Mask

Prairie Public
KLRNPAPEL
Papel Picado Kart and Papel Picado Wheel

KLRN
KTTZPEGGY
Peggy Sue Kart and Rockabilly Glasses

KTTZ
GINGBRD
Blue Gingerbread Kart

PBS Holiday 2015
SCHOOLBUS
Yellow Bus Kart

None
SUPERSTAR
Super Star Sticker

None
RAINBOWHEART
Heart Rainbow Sticker

None
CATHAT
Cat Hat

None
SMILEYFACE
Smiley Face Sticker

None
REDEYEDTREE
Red-Eyed Tree Frog

None
PIZZA
Pizza Mask

None
EYEBALL
Eyeball Mask

None
GREENGHOUL
Green Ghoul Mask

None
LEAVES
Red Autumn Leaves Kart

Yay, Leaves!
FOOTBALL
Red Football Kart

Happy Gobble Day!
HONEY
Honey the Hamster sticker

The Luna Event!
CAMEL
Camel Kart

The Luna Event!
FEZ
Hockbar's Fez

The Luna Event!
LUNAPOSTER
Let's Go Luna Poster

The Luna Event!
ANDYBERET
Andy's Beret

The Luna Event!
LUNAHAT
Luna's Hat

The Luna Event!
SUPERCUB
The Super Cub and The Super Cub Wheels

The Luna Event!
FABULOSOHAT
Senor Fabuloso's Hat

The Luna Event!
MATROYSHKA
Matroyskha Dolls

The Luna Event!
SERBIA
Serbia poster

Surprise!
NEWYORKCITY
New York City poster

Surprise!
VIETNAM
Vietnam poster

Surprise!
MAINE
Maine poster

Surprise!
LONDON
London poster

Surprise!
AUSTRALIA
Australia poster

Surprise!
COLOMBIA
Colombia poster

Surprise!
CHINA
China poster

Surprise!
OUTERBANKS
Outer Banks poster

Surprise!
TOKYO
Tokyo poster

Surprise!
STLOUIS
St. Louis poster

Surprise!
GRANDCANYON
Grand Canyon

Surprise!
CORALGINGERBREAD
Coral Gingerbread Kart and Coral Gingerbread Wheels

Holiday Time!
GREENGINGERBREAD
2018 Green Gingerbread Kart and 2018 Green Gingerbread Wheels

Holiday Time!
YELLOWGINGERBREAD
Yellow Gingerbread Kart and Rainbow Gingerbread Wheels

Holiday Time!
GINGERBREADCAP
Gingerbread Cap

Holiday Time!
2019GLASSES
2019 Glasses

Holiday Time!
HOLIDAYFURNITURE2018!
Bunch of presents, Candle on table, Gingerbread House 1, Gingerbread House 2, Green, red and white rug, Hanging Lights, Holiday Dinner, Holiday candle in window,Holiday Gnome, Holiday cactus, Holiday Palm Tree, Holiday snowman, Little sky blue and white present, Joy sign, Mistletoe, Orange and red present, Outdoor Candleabra, Peppermint candy rug, Polar Bear snow globe, Red and white striped rug, Red and green present, Red Comfortable Chair, Sky blue and white present, Snow 1, Snow 2, Snowflake Large, Snowflake Small, Snowflake Small 2, Snowman snow globe, and Wrapped guitar present

Holiday Time!
BANANA
Odd Squad Banana Kart

2019 Odd Squad Event
BIGWIG
Odd Squad Big Wig

2019 Odd Squad Event
CAKEMOBILE
Odd Squad Birthday Cake Kart

2019 Odd Squad Event
ODDTODD
Odd Squad Flag

2019 Odd Squad Event
ODDSENDS
Odds & Ends Odd Squad Promo Poster
2019 Odd Squad Event
DOILY
Paper Doily Wheels
2019 Valentine's Day Event
HEART
Heart Wheels
2019 Valentine's Day Event
ROSEWHEELS
Rose Wheels
2019 Valentine's Day Event
TRUFFLE
Chocolate Truffle Wheels
2019 Valentine's Day Event
TEDDYBEAR
Teddy Bear Kart
2019 Valentine's Day Event
VALENTINES
Roses & Valentines Kart
2019 Valentine's Day Event
CANDLELIGHT
Candlelight Dinner Kart
2019 Valentine's Day Event
CHOCOLATESTRAWBERRY
White Drizzled Chocolate Strawberry Kart
2019 Valentine's Day Event
HEARTEYES
Pink Heart Eyes
2019 Valentine's Day Event
PINKHEARTGLASSES
Pink Heart Glasses
2019 Valentine's Day Event
LOLEGG
Pink Egg Kart
2019 Valentine's Day Event
SHINE
Dinosaur Train Gem Kart
2019 Valentine's Day Event
IMPRESSED
Yellow Iron Kart
2019 Valentine's Day Event
AWCOCONUTS
Pink Island Kart
2019 Valentine's Day Event
LIFTMEUP
Blue Forklift Kart
2019 Valentine's Day Event
BAAA
Yellow Sheep Kart
2019 Valentine's Day Event
TEDDYLOVE
Teddy Bear with Heart
2019 Valentine's Day Event
Trivia
HATRACE16 was the first Secret Code to have numbers.

24681357 is the only Secret Code to include only numbers.

HOLIDAYFURNITURE2018! is the only Secret Code with punctuation in it.

It is also the Secret Code that gives you the most items, as it gives you 30 items.